ARTIST OF THE SENSITIVE
She didn't know that she has feelings so she experienced them through horses
France based and internationally spreaded, Benedicte Gelé paint the horses, expressiveness and emotions. Born in 1975 in the Parisian suburb, however she's never had connexion with this animal until she started to ride them at the age of 15. In parallel, school was at best the place where she can draw horses on the sidelines of his notebooks, with her head more in the clouds than focused on the teachers's words. Obviously her parents agreed with an art cursus which ended the anxiety they felt at the end of each school years. Gelé was this kind of children who felt out of her place in this classic way of learning.
She became graphic designer without stopping her research in the artistic way. Her curiosity and her desire to improve her skill, pushed her into learning by herself the different techniques like oil or watercolor. She started to paint landscapes with first success in regional exhibitions with some first prizes.
In 2004, her job as art director ended brutaly as she was pregnant. This unemployment time was undeniably a sign for her to start something else. Gelé became graphic designer and artist freelancer.
On the horse side, she never failed to take time during the weekends with her mare she's bought with the help of her parents and summer jobs when she was 18 yo. This first mare played a major role in her life without knowing it at the time. Benedicte Gelé learned a lot with her, humanely speaking as well as an equine level. She loved watch her evolved in her animal life, learned her expressions, attitudes and behaviours. Aware of the animal welfare, she looked for ways to always communicate and interact better with them. No wonder that she developed a keen sense of expressing their emotions.
After landscapes, she has naturally came to paint horses with a little help of her husband who was at the base of this choice.
Year after year, she became more artist than graphic designer letting a big part of her art express the natural emotional states of this animal and by extension, her owns.
ARTIST STATEMENT
Horses are the pretext, paint is the means of expression to express her emotions
Benedicte Gelé started to paint horse with a figurative expression as it was very natural for her. Except that she's refused to keep that way of style. Inside her, there were much more than just the representation of the animal, something more personal that Gelé hadn't find out yet.
The horse is taken as a body with round shapes, bones, angles that reminds her nude lessons at school. She's chosen the horse but it could have been a female model as they share common points.
Year after year, the line took the central part of her art like a common thread with the powerful black chalk she always kept.
The graphic designer in her are never very far away and kept influencing her work.
She also an explorer when it comes to technique and Gelé always try new mediums to keep a kind of freshness, have infinite possibilities and choice of expression in her work. Her art is rich in texture, contrast and use complementary color palettes blended together.
Year after year, her horses became more abstract as well with the essential to express the movement and the expressivity. A kind of semi abstract painting where the animal remains in the lines and the emotional in the core of her art.
Where can you see my art?
GALLERIES
Online Galleries
EXHIBITIONS
"Art & Horse Racing" Exhibition
May 6th & 7th 2023 | Saint Wendred's, Newmarket – UK

Dutch Equine Art Fair
August 12th – 15th 2023 | Living Horse Museum (Vondelstraat 140), Amsterdam – The Netherlands
Personal Exhibition "Atelier du Vivier" Gallery
November | Moret sur Loing — France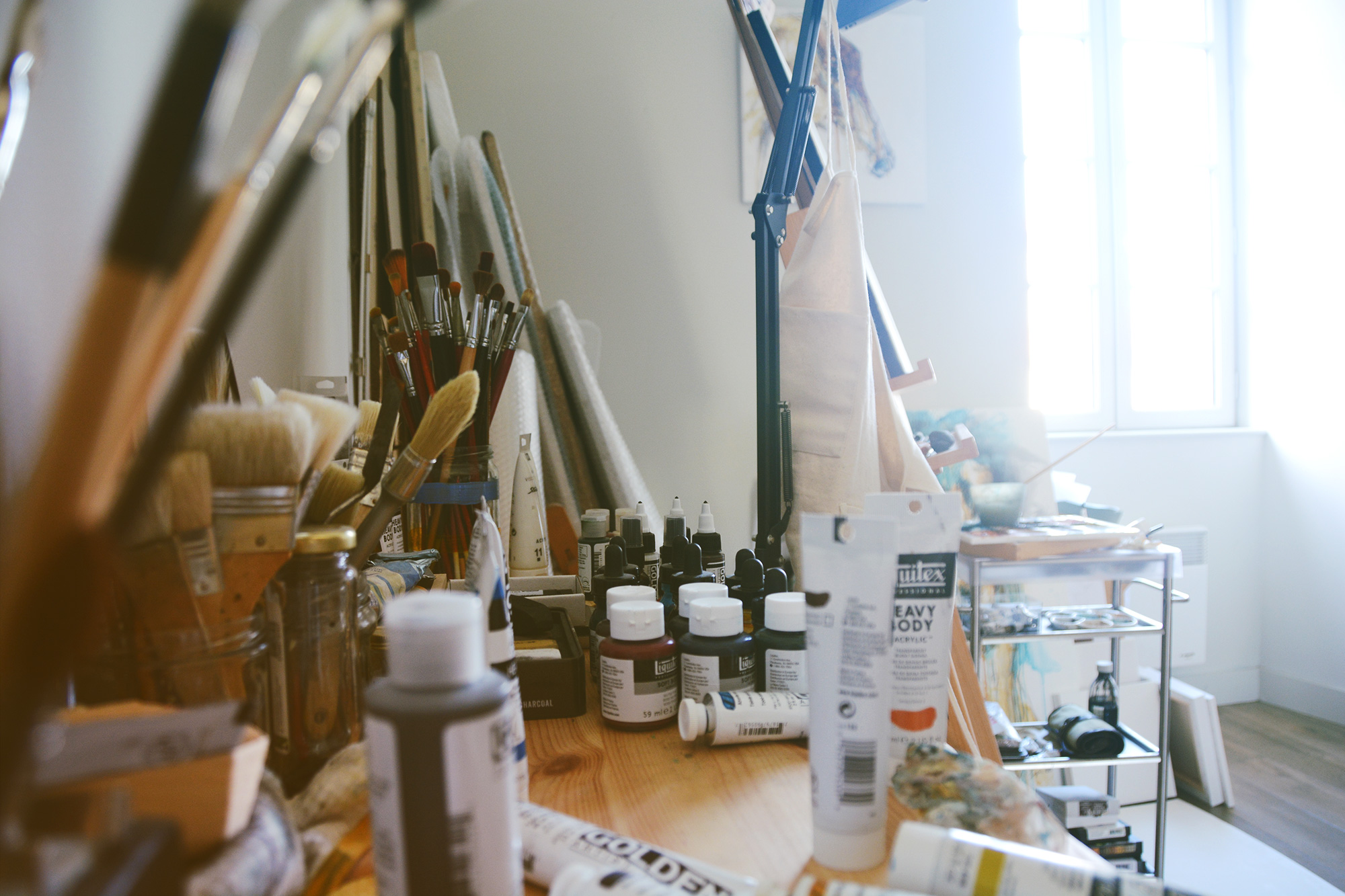 Where you could have met my art?
MAIN EXHIBITIONS & PRIZES
2020-2022
Storytellers Exhibition – De Paardenkamp, Soest – the Netherlands

GMAC Chatou – île des Impresionnistes, France

First Kep Painting Prize at the Art&Cavallo Exhibition at the Fieracavalli – Verona (Italy)
2018-2019
Art&Cavallo at the Fieracavalli – Verona (Italy)
GMAC Chatou – Chatou (FR)
Trophée Carrare "Leonard de Vinci" – Haras de St Lô (Fr)
Grand Priz de la Ville de Talence 2018 – Bordeaux (Fr)
Trophée Carrare "Le cheval de manège" – Haras de St Lô (Fr)
Vermeer Centrum Delft – Delft (The Netherlands)
2016-2017
Expo 4 Art – Bordeaux (Fr)
Horse Exclusive Experience – Lisse, The Netherlands
Trophée Carrare "Tapisserie de Bayeux" – Haras de St Lô (Fr)
Theatre Le Dôme – Saumur (Fr)
Exposition personnelle à La Maline – Ile de Ré (Fr)
2009-2015
L'Art O'Carré – Orléans (Fr)
22e Salon International de Saumur – Bouvet Ladubay Prize – Saumur (Fr)
Horse Utopia – Florence (Italie)
Aranima à La Hip Galerie – Paris (Fr)
Equine Art 2011 – Auburn (US)
Galerie du Prieuré St George Benedicte Giniaux 2006>10 – Oise (Fr)
International Equine Art Competition – 3 Prizes – Art Horse (US)
Exposition "Equine art" à la Corner Gallery – Surrey (Angleterre)
2005-2008
16e Salon International de Saumur – Saumur (Fr)
Exposition personnelle Haras de St-Lô – Saint-Lô (Fr)
31e Salon National des Artistes Animaliers – Bry-sur-Marne (Fr)
15e Salon International de Saumur – First Prize "Painting" – Saumur (Fr)
Exposition Théatre Equestre Zingaro – Aubervilliers (Fr)
Salon de Dessin et de la Peinture à l'Eau – Grand Palais – Paris (Fr)
58e Salon de Moret – Prize of  "La ville de Moret" – Moret-sur-Loing (Fr)
Émission "Des brides et vous" sur la chaine Équidia